Mountain and Road Biking in Northern New Mexico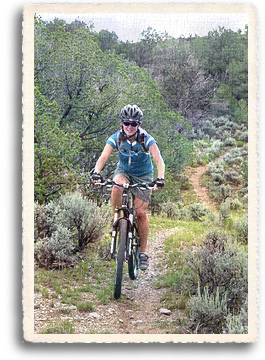 The Southern Rocky Mountains and mesas of Northern New Mexico offer the biking enthusiast nearly every level and type of off-road cycling available: from steep, rocky mountain trails and rolling meadows of wildflowers to rides along mesas with wide-open vistas and the sheer cliffs of the Rio Grande Gorge.

It is important to keep in mind that this is high elevation, wilderness mountain biking; often trails are not marked. So orientation skills are important to prevent getting lost in unfamiliar territory and wilderness skills are essential. Many single-track biking trails can climb to well over 10,000 feet, so be prepared for rain, snow, and hail, even in the summer. Always carry lots of water, food and clothing for changes in the weather.

Favorite Mountain Biking Trails in the Taos Area

South Boundary Trail
This is a trail not to be missed by experienced riders. Breathtaking scenery and an epic challenge are in store for those who take on the challenges of this long, grueling trail. This 70% single track trail traverses the Carson National Forest in a relentless climb out from Taos. The turnaround point is 22 miles from the trailhead, though shuttles are available from Taos for those who wish to do the return loop only. Look out for hikers in the first few miles of the ride (last few miles if doing the return loop.) The trail can be ridden in a variety of ways, ranging from an end to end, with a finish three miles from the center of Taos, to an all day ride which can include a number of adjoining trails.

Devisadero Loop and Talpa Traverse Trails
These are local Taos gems close to the center of town. The Talpa Traverse is a moderate trail, but has sections of tight single-track, as well as double-track. It is usually rideable earlier in the season, when the higher trails are still snow-covered. The Devisadero Trail offers everything a cyclist could want in a hard hour of technical mountain biking.

Rift Valley Trail, West Rim Trail, and Horse Thief Trail
Known by the locals as the Taos Overlook, these are a meandering nine miles of beginner to advanced intermediate trails, which run along the volcanic mesa of the beautiful Rio Grande Gorge, through pinon, sage and cedar. This trail provides exciting downhills and small spaced uphill climbs to many viewpoints of the stunning mesa and mountain vistas. The trails include some old jeep road and single track. These are most popular in the late fall and early spring seasons.

West Rim Box Overlook Bike Tour
This scenic mountain bike trail parallels the famous "Taos Box" River section of the Rio Grande Gorge. Suitable for beginners, the trail presents only minor ups and downs, with many places to view the rapids. This area is rich in wildlife, especially birds of prey, such as Bald and Golden Eagles, Peregrine Falcons and Red Tailed Hawks. The ride is approximately 12 miles and ends with a descent into the gorge. Much of it is relatively smooth, but loose basalt rocks will rattle wheels in places. There is no shade, so ride early during warm weather.

Bernardin Lake
This is a beautiful 10-mile out-and-back single-track and double-track ride along the Rio de la Olla, along open meadows with beautiful wildflowers. This is a moderate ride with consistent climbing.

Cross Country Ski, Gallegos Peak, and Woodpile Trails Loop
This is one of the hardest trails to find in some of the most beautiful forest around. This beautiful, fun trail boasts lots of downhill, sometimes single-track (and sometimes barely a trail, because it has so little traffic.) This trail is about 14 miles in length, and is a profusion of wild roses, Dutch iris, penstemon, and lupine in June.

Northside at Taos Ski Valley
Northside is a self-guided, fee-based mountain biking area in beautiful private alpine wilderness. Known for its steep terrain, it's also some of the most scenic riding in all of Taos County, with fantastic single-track and double-track through pines, aspens, and meadows with amazing views. This trail offers biking terrain for intermediate to expert level riders, with Frazer Mountain as the highest point on the property at 12,163 feet. Northside at Taos Ski Valley hosts the two-day Frazer Mountain Madness bike races in July, and is open from late June through October.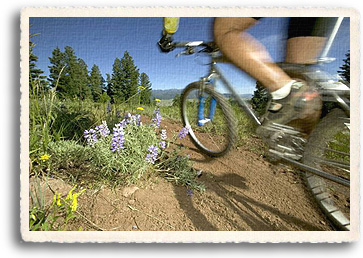 Cerro Vista
This is El Rey, the King of mountain bike rides. Even the shortest version of this monster trail is around 40 miles: with a 65-mile loop that includes the Woodpile Trail, and an 80-mile loop with the South Boundary Trail as a cool down. Riders start at 7,000 feet and climb to 11,900 feet along rough abandoned forest road. This one is for the strongest endurance riders only.

Amole Canyon
Great for beginning riders, Amole Canyon features three rail trails totaling 17 miles. Amole Loop is the easiest of the three, but none are overly challenging.

El Nogal Loop
This trail is for advanced riders only. It starts with a 7-mile climb of 2020 feet, that will get even the most fit riders' hearts pumping. At the top of the double-track trail is a technical and steep 3-mile downhill that will challenge any rider. It is extremely steep and rocky. This isn't a trail to take chances on. Before you take on this trail, make sure you know your limits!

Old Red River Pass
Old Red River Pass is an out-and-back ride with an option for more aerobically fit riders. The exact elevation of this 20-mile ride isn't known, but it will certainly test your VO2 max. Follow Forest Service Road 488 up to the top. At this point, you can either turn around and head back or continue on into the 4th of July Canyon for some serious climbing.

Favorite Mountain Biking Trails in the Santa Fe Area

Dale Ball Trails:
Central
These 7-plus miles of trails incorporate some reconditioned older trails with new sections that are really fun. There is a little more climbing than the North section and the tread is not quite as smooth. Don't forget to ride the connector trails to vary distances and experiences.

North
These are new trails and the first six or seven of many more miles to come. They are tricky, technical single-track twisters through the pinon woods in the foothills over looking Santa Fe. The tread is good and fast, but watch out for the soft shoulders and tight switchbacks. The outside loop is about five miles +/- with cut-off trails to vary distances. The next system to be built will stretch south to the Atalaya mountain trail adding another 17 miles.

South
This 5-mile trail is mostly a trail for hikers, but if you don't mind some hike-a-bike it is a good trail for mountain bikes as well.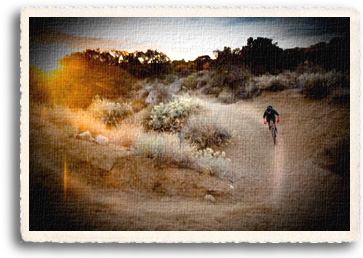 Windsor Trail
This 10-mile loop is for advanced riders. The trail starts with a good climb and ends with a ripping technical downhill. On weekends, the trail gets very crowded with hikers and bikers, with many downhillers who shuttle to the top and kamikaze down. This trail offers some great technical terrain, stream crossings, gorgeous scenery, and is a must ride for any advanced rider in the Santa Fe area.

Caja Del Rio
These are great rolling terrain trails for beginners, with numerous choices for distance. The trails here are built on volcanic rock, making for a unique surface. None of the trails are very technical, so entry-level riders are able to enjoy them. Caja Del Rio offers some spectacular views from the plateau.

Apache and Baldy Trail Loop
This is a moderate-difficulty, all-season, 6-mile loop trail for pack and saddle hikers and mountain bikers. The trail follows a ridgeline, then drops and follows and old road, with a switchback down to Apache Canyon to trail 176. There, a steep climb back up to the ridgeline finishes the trail with a moderate incline back to the road.

Glorieta Center Trail
This is a difficult, 5-mile trail up to Glorieta Baldy for pack and saddle hikers and mountain bikers, with a high elevation of over 10,000 feet. Use of this trail is moderate to heavy, as it offers a number of unique attractions. A detailed trail description is available at the entrance gate to the conference center. From the trailhead, a grassy road follows a stream up the canyon, then climbs to a rocky area. It then continues through the forest, eventually gaining the ridge between Ruiz and Glorieta Canyons. Much of this trail follows an old road. In the last mile, the trail becomes considerably steeper and narrower, switching up the southwest slope on the mountain. Continue up the hill to the top. Please do not climb the fire tower.

Northern New Mexico Road Riding
Road riding in Taos is as underrated as it is challenging. Taos area roads are narrow with little to no shoulder, but this shouldn't discourage any cyclist from enjoying epic scenery and world-class climbing. The trick is to choose your route and time wisely. Roads here are rough, so bring plenty of spare tubes and a patch kit. It also helps to have some roadside repair skills. The Taos area offers rides ranging from short town loops to several century options and beyond.

Taos and the surrounding area offer some of the most beautiful and challenging road rides in New Mexico, or indeed, anywhere. Currently, there are no bike paths and many Taos area roads are narrow with little or no shoulder. But this shouldn't discourage any cyclist from enjoying the spectacular high desert and Rocky Mountain scenery and world-class climbing. And there are some routes with bike lanes or large shoulders. Most local riders tend to begin their road rides in the morning to avoid possible afternoon wind and showers, especially during "monsoon season" from mid-July through August. Temperatures can climb in the summer, but are moderate in spring and fall. Be prepared for changing weather by carrying a windbreaker or lightweight rain jacket, as weather in the mountains is unpredictable.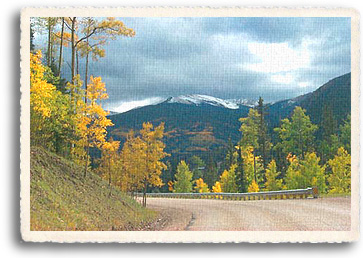 Popular Road Rides

The Enchanted Cirlce
Home to the Enchanted Circle Century Tour each September, this is the most popular road ride route in Northern New Mexico, drawing close to 1,000 cyclists annually. The route starts at Red River and goes to Questa, Taos, Angel Fire, out to Black Lake and back, then through Eagle Nest, up Bobcat Pass, and back to Red River. The Century Tour is a full 100 miles, but if you choose to stay on the actual Enchanted Circle and omit the trip to Black Lake, you can experience a beautiful 85-mile tour. The route goes over 10,000 feet at Bobcat Pass and Palo Flechado Pass. Riders on this route experience stunning views, including New Mexico's highest point, Wheeler Peak, and Eagle Nest Lake.

Be aware when descending Palo Flechado, that this treacherous pass has been the site of several accidents and injuries. All were caused by cyclists going too fast. The road is rough, narrow and steep with gravel on the shoulder. Hairpin turns are very dangerous here at high speeds. New Mexico motorists are not accustomed to sharing this particular piece of road with bicyclists. Absolutely DO NOT swing out into the other lane. Pull over frequently and let motorists pass.

The Mora Loop
Longer, harder, and more scenic than the Enchanted Circle, this route follows highway 518 over U.S. Hill, past the Sipapu Ski Area, down Holeman Hill, and through the town of Mora. Leaving Mora, riders traverse pristine New Mexico terrain on their way to Guadalupita, and then to Coyote Creek State Park. The road becomes narrow, with spectacular scenery, and three 10% grade pitches before the clearing near Black Lake. Take in the Wheeler Peak Wilderness and all its splendor on the way to Angel Fire. Then it's up and over Palo Flechado Pass and on down into Taos. This 107-mile beauty will give you something to write home about and keep you coming back.

U.S. Hill
This is a beautiful, rolling hill ride through the Kit Carson National Forest, south and east of Taos. There is a bike lane for the first eight miles, then a nice 4.5-mile climb up U.S. Hill to a scenic overlook of the Taos Valley.

Tres Piedras to Hopewell Lake or The Brazos Pass
This ride is full of beautiful rolling hills through forest and ranch land, with very little traffic and nice wide shoulders. This is a favorite for group rides. It is about 36 miles to Hopewell Lake and back, and about 56 miles to Brazos Pass and back to Tres Piedras.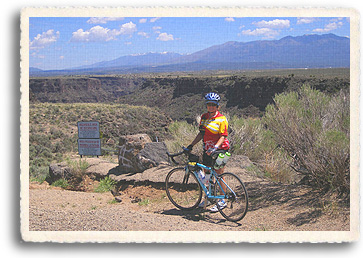 Arroyo Seco, Valdez, Arroyo Hondo Loop
This route is about 28 miles round trip, with scenic riding through quaint, small villages in Northern New Mexico. It winds through the valleys of Valdez and Arroyo Hondo, and back up to Arroyo Seco. Some say it reminds them of riding through small towns in Europe.

The Taos Ski Valley Climb
This route is about 35.2 miles round-trip from Taos to Taos Ski Valley. With elevations ranging from 7,000 feet to 9,300 feet, this scenic ride through alpine forest and alongside a river, will take you from Taos to the little European-style village of Taos Ski Valley, then on to Arroyo Seco where you can stop for refreshments.

The New Mexico Death Ride Double Century
The name alone usually thins the field on this ride! This route is so daunting, that only two riders have successfully completed it. Start at Taos and ride to Tres Piedras, (though many riders will drive this far and use the local ranger station as a starting point.) The route then takes mountainous terrain through the Brazos area. This is also some of the best shoulder in Northern New Mexico. The Brazos Cliff overlook is your point of no return, followed by a fast and fun descent to Tierra Amarilla. Then head north to Chama, the 100-mile mark, but not yet half way. Climb into Colorado, and the Cumbres and Mongas Pass, both over 10,000 feet. Then descend some of the most scenic road around, along the Conejos River into Antonito, Colorado. Turn south and return to Tres Piedras via highway 285. This completes the 140 mile loop for those who drove. Death-Riders will return to Taos, crossing the Rio Grande Gorge bridge for the second time. If you complete this one, let the local cycle shops know, as they keep a Riders Hall of Fame.

Enjoy Your Northern New Mexico Road Riding
The Taos area has many road-route loops ranging from 12 to 50 miles. Many small back roads feature the stunning high desert and alpine terrain of the region. Northern New Mexico is a place where a little imagination and good preparation can lead you on the adventure of a lifetime. You can ride all season without hitting all the biking trails and road rides the area has to offer. Check with local bike shops for maps, books and information about all available rides.


Plan Your New Mexico Mountain or Road Bike Trip

Back to Taos Unlimited Local Color

Back to Santa Fe Unlimited Local Color