Whitewater Rafting in Northern New Mexico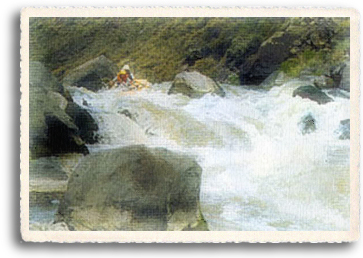 When the spring snowmelt fills the rivers and streams of Northern New Mexico, it's time to get out the river gear and go rafting. Whitewater rafting is perhaps the greatest adventure park ride ever invented: nature's combination of a roller coaster and a water ride, and all without the crowds and concrete!

From its humble beginnings only 30 years ago, whitewater rafting has become the centerpiece of complete vacations that include a world of fun activities, both on the river and off. The key ingredient is still the tremendous thrill of the whitewater rafting experience, but many adventurous vacationers combine rafting with trail riding or llama trekking, camping, rock climbing, and of course, fishing. It's a great way to experience the beauty of Northern New Mexico from the vantage point of its rivers and wilderness areas.

For a unique perspective of Northern New Mexico, its rivers offer stunning scenery on nationally designated Wild and Scenic Rivers, with whitewater experiences from the mild to the wild. On the rivers of New Mexico, rafters will find a variety of exciting sights and experiences along the way, including encounters with native wildlife and breathtaking scenery.

There are two main rivers for whitewater rafting in New Mexico: the Rio Grande and the Rio Chama, both of which offer exciting, high quality rapids. The Rio Grande is the longer of the two, with several popular whitewater areas, including the famed Taos Box, where you'll find the best rapids in New Mexico. Depending on the run-off, whitewater is rated Class II to Class V rapids in nine different segments of the river. Truly, this is New Mexico's premier whitewater river.

Rafting the Rapids of the Rio Grande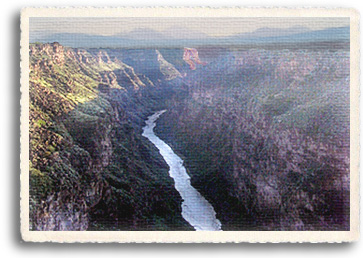 The Rio Grande takes rafters through the 800-foot-deep, 17-mile-long Taos Gorge. Despite its name, the Taos Gorge is a geological rift, which gives it its unique and jagged appearance. It almost seems as if the mesa split apart specifically for the purpose of letting the river run through. While the Rio Grande has action-packed rapids, it is also a beginner-friendly run. Taos river rafting is best suited to individuals who are experienced in canoeing or kayaking, as it requires constant paddling for several miles.

Class II to Class V rapids exist in nine different segments encompassing the Upper Rio Grande Gorge and Lower Rio Grande Gorge. Following is an overview of some of the segments.

The Upper Gorge includes the Class II Ute Mountain Run (24 miles) and the Class V Upper Box (6.5 miles). It also includes the Taos Box (15 miles), classified Class III-V, which takes 6 to 8 hours, including stops for lunch and sightseeing. The rapids in the Taos Box offer the best whitewater in New Mexico, through one of the most scenic sections of the Rio Grande Gorge.

The Lower Gorge begins at the Taos Junction Bridge in the Orilla Verde Recreation Area and extends south for 18 miles. The most popular section is the Racecourse, a 5-mile stretch of whitewater located along NM 68, which offers an exciting ride that is not as demanding as the Taos Box. Trips in the Lower Gorge vary in time from 2 to 6 hours, depending on river flow and where you put in.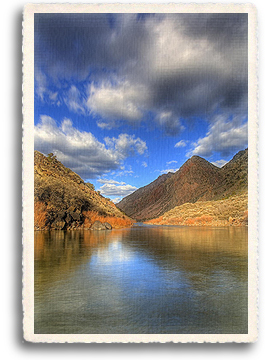 Rafting Trips on the Rio Chama
Rafters have numerous choices of runs which can last a few hours, a half day, or even several days. The rapids here are milder, with Class III being the average rating, making this the perfect choice for a relaxed trip with stunning views of the high desert landscape and wildlife. Here, rafting trips go for about ten miles through the red rocks of Georgia O'Keeffe country, where rafters are often treated to glimpses of nesting swallows, herons and flocks of geese.

The Rio Chama's mild rapids and leisurely pace make this trip the perfect choice for a family weekend, with fun activities for all, including fishing, hiking, exploring dinosaur tracks, photography and drawing, or simply enjoying the sights and sounds of nature.

Whitewater rafting season in New Mexico runs from mid-April through the summer, depending on run-off. From mid-spring to early summer the water levels are at their highest, providing the best trips for experienced rafters and lovers of challenging rapids. Easier trips are available throughout the season as well, and spring in New Mexico means temperate days and cool evenings, making it a great time to visit.

Planning Your Trip
Many Rio Grande trips are available by arrangement with commercial outfitters, including overnight trips. Most of these require a hike to or from the river and may be seasonally restricted to protect wildlife. Commercial river outfitters are permitted by the BLM to provide trips to the public. All companies meet strict guidelines for equipment safety and guide experience.

Raft the Rio Grande or the Rio Chama. Take on the Taos Box for some challenging whitewater. And don't forget to bring your camera. With magnificent scenery and dozens of exciting rapids, whatever your choice, your white water rafting trip will make your New Mexico vacation an experience to remember!


Pictured top right: Rafting the whitewater of the Taos Box

Pictured middle right: The Rio Grande Gorge cuts through the mesa at Taos, NM

Pictured bottom right: The incomparable scenic beauty of New Mexico awaits you while rafting the Rio Grande (photo by Geraint Smith)


Plan Your New Mexico White Water Rafting Trip

Back to Taos Unlimited Local Color

Back to Santa Fe Unlimited Local Color